2021 News SEO Trends and Predictions ... Yet Another Annual Top Trends Article, Why?  There are many specialties within the SEO community like Tech SEO, Content SEO, Commerce SEO, Link Building, Amazon SEO, etc. Nowadays you see more jobs posted with such title focusing on specific branches of SEO. News SEO, or as a close friend of mine call it "Editorial SEO", is one of those SEO specialties that require specific skills in addition to traditional SEO knowledge. Thousands of publishers and news sites depend on their in-house News SEO teams and agencies for news template optimization, technical news optimization, paywall optimization, breaking news SEO recommendations, trends monitoring, keyword gap analysis and most definitely how to optimize for for Google News and Top Stories. Yet, there is so little out there about News Optimization strategies, tactics and most important trends. Even Google rarely discuss anything when it comes to Top Stories.
That lead us to focus our writing solely on News SEO covering Google Discover Optimization, News SEO Ranking Factors, Top Free News SEO Tools, YouTube Visibility in News and much more News Optimization Tactics and Strategies. Today we are excited to bring you the first annual look at what's ahead for the News SEO in 2021, brought to you by the top 15 News SEO experts worldwide.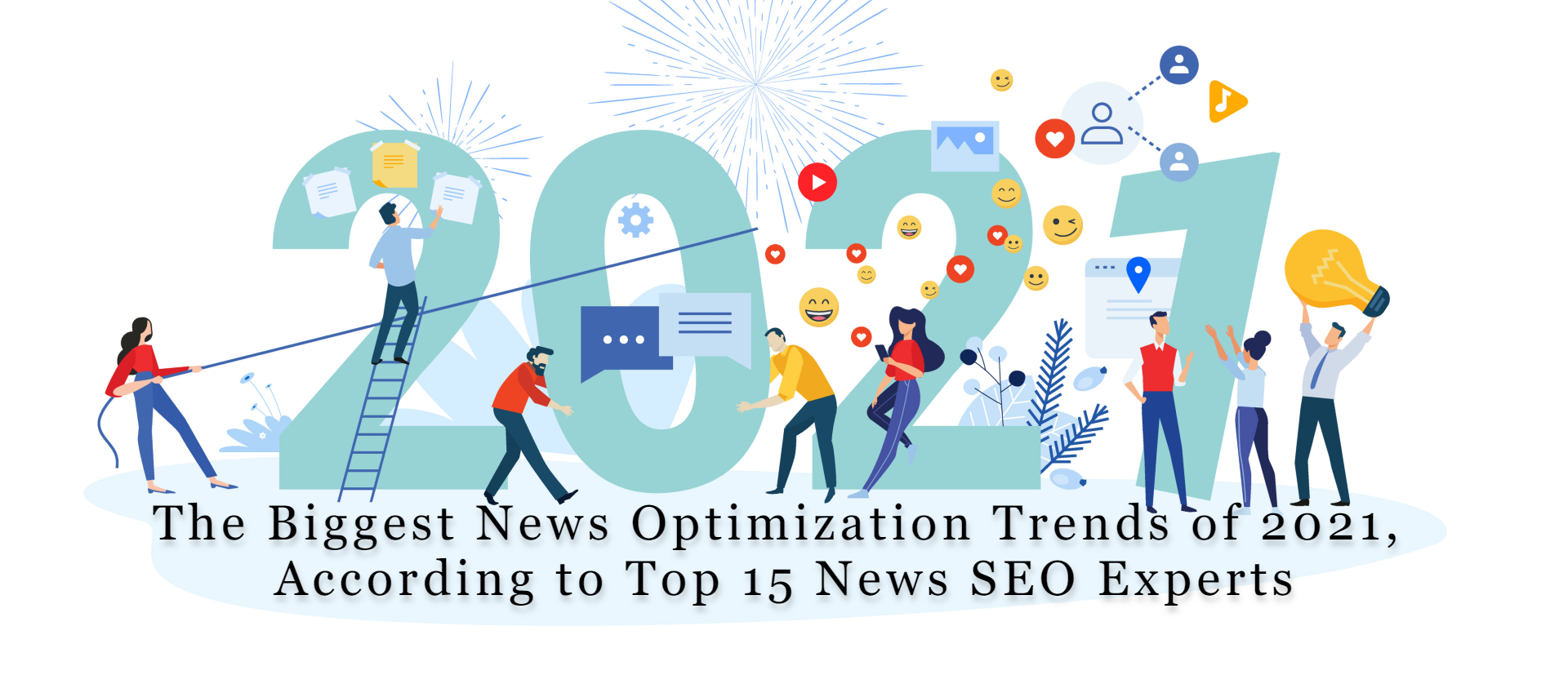 We would like to hear your views as well, please share with us your predictions and top trends in 2021 at the comments section below.
TL;DR : 2021 News SEO Trends and predictions are
Entity Analysis is the most important theme in 2021.
Sub-Topics layer will enable Google to surface more Google Content driving the SERPs real-estate even smaller
User Intent will continue to be an important aspect of SEO.
 
Google will continue to introduce multiple and different formats in the SERPs beyond Top Stories article formats. Other formats will make their way into Top Stories, which will have great traffic implications as well.
AMP will no longer be a requirement to rank in Top Stories. 
Publishers and other brands will start testing leaving AMP. But AMP will remain dominant in SERPs!!
It will be harder to rank syndicated content.
Local News sites will have better presence in Google SERPs
 
Google Experience Updates will impact publishers greatly who suffer from heavy pages, slow pages and intrusive ad experience.
Extremely ad-heavy traditional publications with horrible usability will start to see a natural drop in news rankings.
Speed and especially "good" performance/scores in the Core Web Vitals is already showing that it's a bigger factor than it has previously been.
 
Google Discover will continue to grow as an important traffic source for publishers around the world/
Search Engine Console will provide more data to publisher via APIs around Discover.
More News SEOs will focus on Market and Audience Segmentation.
 
Fighting Disinformation will become a key focus for Google resulting in higher E-A-T standards. Fact-checks, FAQs and snippets will be major this year
E-A-T will continue to impact publishers greatly.
AI will have a bigger role in content creations and content briefs.
 
Mixed feeling around Google News inclusion; some expert believe Google will address the issue while others believe E-A-T will makes it even harder.
Many publishers will come to the realization of the importance of Tech SEO in their organizations especially legacy old sites. More Tech SEO jobs!
Optimizing the editorial workflow for speed and flexibility so that SEO is seamlessly integrated into their day-to-day experience.
Big thanks to all contributors: Barry Adams, Lily Ray, Joost de Valk, Barry Schwartz, Paul Shapiro, Marshall Simmonds, Cindy Krum, Greg Jarboe, Dan Smullen, Carolyn Shelby, Claudio E. Cabrera, Matthew Brown, Loren Baker, Upasna Gautam, Vahe Arabian and Justin Bank. I added few additional trends at the end.
 
Enjoy,
John Shehata
Barry Adams
SEO Consultancy
Polemic Digital
@badams
Multiple & Different News Formats
The algorithmic inclusion process for Google News, introduced in 2019, has so far been almost entirely opaque. I suspect (and hope) that in 2021 we'll get more clarity about how Google's algorithms decide whether a news site should be shown in a news element in search. As more newly launched publishers will start to get traction in Google News, we may start to identify some common areas that Google looks for in a news site.
I also see a greater role for multiple different news formats. We already see the Top Stories boxes show a variety of news content - static articles, live update articles, and video content - and I see that variety growing in 2021. Publishers should invest in multiple formats to deliver their news content online, repackaging stories in different ways to enable greater visibility across Google's ecosystem.
E-A-T will also continue to be extremely important for News publishers
Google continues to evolve and expand the search features where news articles are eligible to appear. For example, Google launched Discover in 2018, which has become a major source of traffic for both news publisher sites as well as other types of content producers. In late 2020, Google then linked its new Web Stories product to the top of Google Discover feeds, creating another new and unique way for publisher sites to generate traffic using a visual storytelling format.
The criteria around ranking in Top Stories on mobile devices is also changing in May of 2021, where AMP will no longer be a requirement to rank there. These nuances make it extra important for those doing News SEO to pay attention to the requirements for ranking in each of Google's SERP features, as they evolve and get updated over time.
E-A-T will also continue to be extremely important for News publishers. Instead of trying to be an expert on a large variety of topics, it's important for publishers to pay attention to the areas of their site where they tend to perform the best, as this can demonstrate true expertise. Doubling down on those topics is often a more effective approach than trying to be a jack of all trades and master of none.
Google will continue to try to show a diversity of viewpoints in Google News, as well as increase visibility of local news sites with its Local News carousel. In 2020, Google reminded the SEO community about the importance of original reporting for optimal performance in Google News, which I believe will make it harder to rank syndicated content without providing an original or unique perspective. E-A-T will continue to be of the utmost importance for strong performance in Google News, especially given the scrutiny being placed on the quality of Google's results stemming from the rise of misinformation and fake news.
Joost de Valk
Chief Product Officer
Yoast.com
@jdevalk
Matching Your Content To The User's Intent
I think the trick is going to be matching your content to the user's intent with their search queries, and mentioning the entities that they're looking for. With Google becoming better and better at distinguishing between different entities, when a user searches for one they'll know which one they mean and will surface pages that are clearly about that entity.
Barry Schwartz
Editor at Search Engine Roundtable & Search Engine Land, 
President of RustyBrick, NY web dev company
@rustybrick
Google Experience Updates
Consumers expect more and more from our content and publishers need to continue to find new and creative ways to meet those demands. Schema and structured data will continue to be important.
And the most known upcoming Google change is the Page Experience Update, which I think will impact many publishers because competition is so tight amongst news publishers.
I do think we will be getting more data to work with from Google for publishers, really soon.
I think it will become more and more competitive and harder for publishers to rank well in Google News.
Paul Shapiro
Global Director of Technical SEO
Condé Nast
@fighto
Google Discover
Not entirely unique to publishers, is the prevalence of Google Discover as a traffic source. I think many news publishers should be working more and more to try and tackle the Google Discover optimization problem.
The Page Experience algorithm update is coming May 2021 and it's likely that most big publishers are working to improve Core Web Vital metrics, and possibly move off of a reliance on AMP. Regarding moving off of AMP, it's imperative that publishers are cautious in this process and approach it scientifically (as all great SEO should be).
Marshall Simmonds
Founder
Define Media Group
@mdsimmonds
Technical SEO & Entity Analysis
Technical SEO will continue to be where News SEO Pros should focus attention. From maintaining AMP and Live-Blog templates, to working through speed enhancements and utilizing the new, promising, reports in Search Console. All roads lead through tech.
AND AT THE SAME TIME... There's a critical editorial side to News SEO too and is rooted in foundational best practices. This includes understanding SEO and the ever-changing nuances, working with the essential third-party tools and integrating the strategic vision into the day-to-day workflow. That's not a trend though, that's essential to any functioning SEO program.
Regarding trends - two words: E N T I T Y  A N A L Y S I S
Cindy Krum
CEO & Founder
MobileMoxie
@Suzzicks
Sub-Topics Layer
I think that the announcement of Sub Topics in Google is huge, and not getting much attention. I envision them being something like the current COVID search results, that compile bits of data, stories, images and other things in a super engaging and interactive dashboards - In short, I think that Sub Topics will give Google more chances to surface Google-y stuff like Knowledge Graph, disambiguation, comparison, shopping, interactive graphs, interactive maps etc & even fewer opportunities for sites to rank. Sub Topics may be slightly different for news stories than other types of content, but if I am right that the COVID result is a sample Sub Topic, then you can already see that news search results get a smaller portion of the real estate that they did before - even on a very news-worthy topic.
I think that SEO's are going to continue to be more and more dis-satisfied with how Google is ranking and communicating about rankings with SEOs, as position 1 becomes more and more nebulous, and gets pushed lower on the page by more engaging content. SEO's need to start thinking about SEO and success in SEO differently.
Greg Jarboe
President and co-founder
SEO-PR
@gregjarboe
How to Measure Success?  
The biggest trend that smart News SEOs should focus on in 2021 for greater success is measurement. How do you measure success? For media companies, the answer is traffic and page views. But for brands it is brand awareness, consideration, and purchase intent. And for businesses, it is leads and sales. So, measuring whether your organization benefits if a story from your news medium or about your brand and product gets a lot of visibility in Google News should be what savvy News SEO professionals need to focus on in the coming year.
I predict that more News SEO professionals, brands, and businesses will focus on market segmentation. It's fairly rare to become a top story, but its more important for companies to be a top business story. And I predict that more News SEOs will realize the underleveraged value of being a top technology, science, or health story in 2021.
Dan Smullen
Head of SEO
Mediahuis Ireland
@dansmull
Video SEO, Web Vitals Performance, Migrating from AMP
With sites no longer needing to go through a submission process to be eligible Google News, we will continue to see a lot more niche or local publishers ranking higher in their niches/locality than national publishers. We will also see a trend of sites finding it harder to get into Google news and established trusted national publishers taking all.
We will also see Google fight against disinformation and poor user experience from Ads. We won't see much of an impact from the Web Vitals March roll out, as most publishers have adopted AMP. With AMP being a shortcut to achieve perfect Web Vitals. However, those who have not adopted AMP or don't have great Web Vitals, we will see similar to the HTTPS roll out. A gradual improvement adoption overtime, but little to no impact on publisher rank.
However, with more and more publishers seeking more effective monetization strategies, we will see more and more publishers adopting a paywall. And potentially migrating away from AMP. As well as looking at affiliate content avenues, partnerships and diversifying their online offering.
Carolyn Shelby
Manager, SEO
Disney/ESPN
@cshel
Mobile ONLY Indexing
The upcoming shift to mobile only indexing is going to be a shock to a lot of publishers. There is a common misconception that "we only need to worry about desktop because the majority of our users are on desktop" and that completely ignores the reality that at some point in 2021 (likely May-ish?) Google is ONLY going to be looking at what is and is not present on the mobile view. So I would say ignore your mobile presentation at your own peril. Speed and especially "good" performance/scores in the Core Web Vitals is already showing that it's a bigger factor than it has previously been, so again, ignore that at your own peril, too :)
Claudio E. Cabrera
Deputy Audience Director, News SEO
New York Times
@cecabrera_
Google Discover is Here to Stay
The first thing I'll say is that I believe Discover is here to stay and will continue to be a top traffic driver in many ways for publications globally and those who run tests as to what works on Discover and what doesn't. I do think the Web Stories experiment won't last long. While Google may great  at incorporating new experiences for users on search, I just don't believe users are looking for that. I believe they may click on video. They will obviously click on text content but I don't see the appetite for that type of platform on search in a way that's already kind of been built on social. 
On another note, with the talk about brands leaving or keeping AMP in 2021, I do believe that Google will further increase their focus on mobile. Many sites already look for how they perform on major events on mobile over desktop anyway but I think the focus will be larger for Google this year so you want to make sure that from a UX standpoint your site is up to par and Core Web Vitals will be key as we all know this year.
Lastly, fact-checks, FAQs and snippets will be major this year as Google focuses more on searchers intent and really dives into serving them with the best possible results from an author authority level [E-A-T] and how the content is constructed.
Google Expands Beyond the Standard Article Format
I think 2021 will be the year that Google expands beyond the standard article format as the dominant content type in Top Stories, the News tab, and Discover. We're already seeing them experiment with this via the Web Stories format. It's been some time since Google News has any huge changes, but we might be due this year.
I wouldn't be at all surprised to see video and image results, interactives, page snippets, fact checks, or other features we're used to seeing in web results make their way to News. As usual, the Google app on Android is where you see a lot of these make their testing debut, so it's good idea to keep tabs there.
Any changes to Top Stories in particular can have pretty significant traffic effects for news sites, so I'm always a fan of keeping everyone posted that changes are afoot so no one is caught off guard if visibility changes and scrambling is required. Being a scout is one of the requirements of the news SEO job.
Google is dropping the AMP requirement for mobile Top Stories this year, but I'm skeptical that we'll see major changes in the carousel. I'd expect AMP sites to remain dominant in Top Stories, and Web Core Vitals to act as a high bar requirement for non-AMP sites. For clients that are doing well in Top Stories and have AMP up and running, I'm not advocating for any platform changes in 2021 until we see how it all shakes out.
Ad-Heavy Traditional Publications Will Be Impacted Greatly
I would start with adding summarizations to longer form news pieces which can be easily used as a preview in the Google index, typically a few sentences. This helps with drawing in the used but also can be beneficial from a ranking perspective. Also, the more news citations the better. Last, make sure your featured images or preview images are uniformly defined on-site, in OG tags, in your structured data and also in AMP (if you use it) to avoid misleading images appearing in Google News.
Traditional publications which are extremely ad heavy and with horrible usability will start to see a natural drop in news rankings as sites which embrace UX will be rewarded. As of today, a lot of traditional publishers have traded user experience for revenue and that can no longer last.
Upasna Gautam
Product Manager
Digital News & Platform Services at CNN
@UpasnaGautam
Optimizing Editorial Workflow for Speed and Flexibility Helps SEOs
The most profound concept to understand is that our core user is not just the online news consumer, but also our own editors/journalists that create news for online consumption. With that in mind, our goal isn't just to optimize news content at a keyword- or page- level, but more importantly, it's to optimize the editorial workflow for speed and flexibility so that search is seamlessly integrated into their day-to-day experience. Creating a fast and flexible content management system that empowers editors to quickly optimize, enable rapid development, and easily integrate new components is the key to news success across the digital ecosystem. The real goal is all about serving our users by putting the power of content strategy completely in editorial hands so that they can do their jobs in the most effective and efficient way possible. 
Justin Bank
Founder
Senior Director, Digital News & Strategy
NPR
@bankonjustin
continued proliferation of different surfaces around the Google ecosystem
The continued proliferation of different surfaces around the Google ecosystem -- Google Discover, Google Chrome Suggestions, Schema.org powered SERP placement, etc.
Long tail evergreen SEO placement will continue to get more sophisticated.
The lessons we learned from Google+ and Google Wave continue to apply in strange new ways.
AI & 5G
AI will help News SEO/publishers adopt and disrupt the process of updating evergreen content using AI. 
5G rollouts gather pace across the world, along with a proliferation of new devices including wearables and smart glasses. All this suggests publishers will need to prepare for a future that involves taking content and brands across more and more devices and distribution channels.
John Shehata
Global VP of Audience Developemtn Strategy & CRM at Conde Nast
Founder, NewzDash.com 
@JShehata
News SEO will Become Tied to Revenue More Than Just a Pure Scale Play
2021 is already a weird year, many contradictions yet many positive signs!! 
Google will continue to provide SEOs with more data in Search Console/Central for different Google surfaces but it will continue to withhold data on specific features performance like Top Stories, Featured Snippets, etc. Many Tech teams in News Organization will make a case for AMP exodus. Without proper fixes addressing speed, ad-heavy layouts, hundreds of external calls, and poor user experience, leaving AMP will results in horror stories for some publishers.
Publishers will continue to suffer financially, except for the ones who invested time and effort in Commerce, Paywalls, Events, Merchandise Stores, and other non-display revenue streams. SEO will evolve to become a business function for publishers focusing on revenue and not just pure scale play. This has been the case for commerce sites for long time, this will change greatly for publisher as they focus more on diversifying revenue streams.
Thin News sites with no real authority or established expertise of their writers will continue to suffer in rankings and traffic. News Mills producing hundreds of articles a day will take a hit due to poor author E-A-T on topics covered. 
Google recognizes the importance of Local News providing better visibility for local trends in Top Stories and SERPs. 
Content Freshness will become a more dominant signal in Top Results impacting evergreen content produced by publishers.
Now it is your turn, What are your News SEO predictions for 2021?