We believe SEO is a must-have skill for all journalists. Our founder, John Shehata, has been presenting at NYU Journalism Institute for so many years training students on News SEO skills. In 2020, John worked with NYU Journalism Institute to select 2 student to mentor and train on SEO for 3 months, then feature their articles on the NewzDash. We are proud to present Hunter Hall to the SEO community and his first published SEO article, Enjoy!!!
Hunter Hall is a writer and media specialist currently living in Johnson City, Tennessee. He enjoys making content about entertainment, pop culture, or anything that he can learn about. A recent graduate from William & Mary, Hunter also likes listening to music and reading Victorian literature. Hunter has a website where you can read about him and find some more of his writing!
---
Submitted by Hunter Hall 12/28/2020
Today, making sure your news content gets clicks means much more than just posting it on social media. This is where a good SEO strategy comes in–with these free news SEO tools, any writer, journalist, or editor can make sure their content is seen.
There are a plethora of tools out there for anyone interested in SEO to use, so, of course, this is a selective list. All of these resources will specifically help you with news SEO, whether through up-to-date news trends, writing help, or the more technical side of SEO, and most of them offer free versions, or at least helpful free trials, so you can optimize your news content without breaking the bank.
---
If you're looking for a tool specifically meant for News SEO, then NewzDash Trends is the trend-compiling resource for you. See trending topics with related keywords and scope out the competition by viewing who is placing in Google News, including who the "winners and losers" are in Google News placement.
These services are free to use; if you buy into one of NewzDash's premium subscriptions, you can get even more help tracking keywords, trends, and Google News. Use NewzDash to see what's been trending in your industry and country of choice, or to find out who is excelling so you can find out what they're doing that you're not.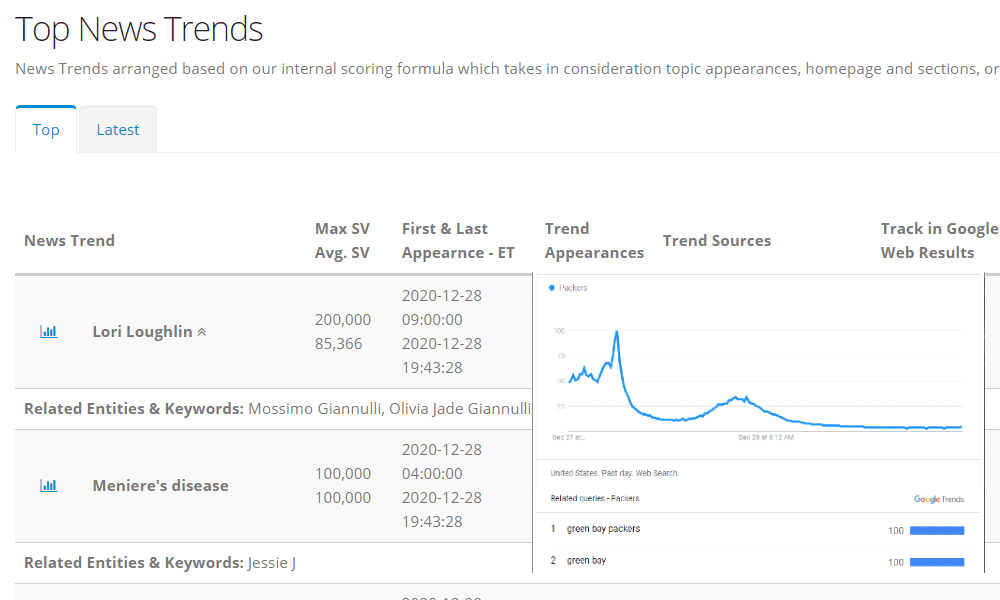 When you're ideating keywords, it's hard to think of any variation on your subject or possible search term. That's where Keyword Tool comes in–it's a great, mostly free, alternative to Google Keyword Planner. Keyword Tool generates a string of keywords for any search term, allowing the user to specify platform and negative keywords.
Filter your search for "News" to specifically get news keywords, but keep in mind that you can't filter by date. You can use Keyword Tool for free without an account, but a premium subscription allows the user to see more terms, as well as statistics about each term.

Keywords Everywhere allows the user to see keyword details directly from a Google search. A free extension for Chrome and Firefox, Keywords Everywhere displays trends, alternate keywords, and related search terms alongside your search results. And if you pay for credits, starting at $10 for 1,000, you can get the volume, CPC, competition & 12 month trend data for one keyword per credit.The best aspect of Keywords Everywhere is its convenience–there's no need to switch between tabs or copy and paste from a myriad of keyword tools.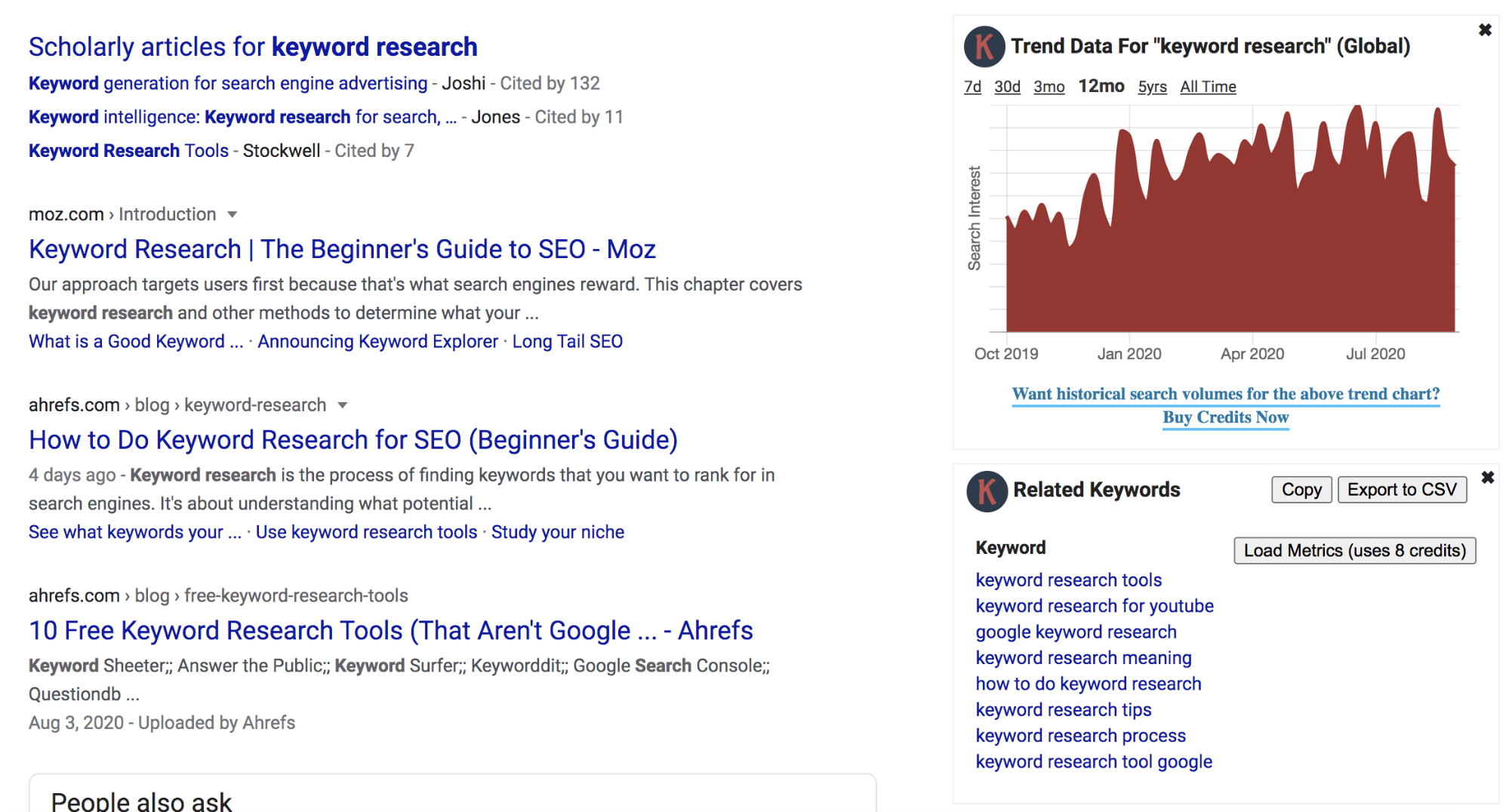 The tried-and-true tool for keyword research is a go-to for a reason. Google Trends allows a user to filter interest by subregion, see related search terms, and, most importantly, compare the trends of different keywords–all for free. Alter your search by date, specifically for "past day," to get up-to-date trends for your news site. Google Trends is essential for any news writer to find out which keyword rises above the rest.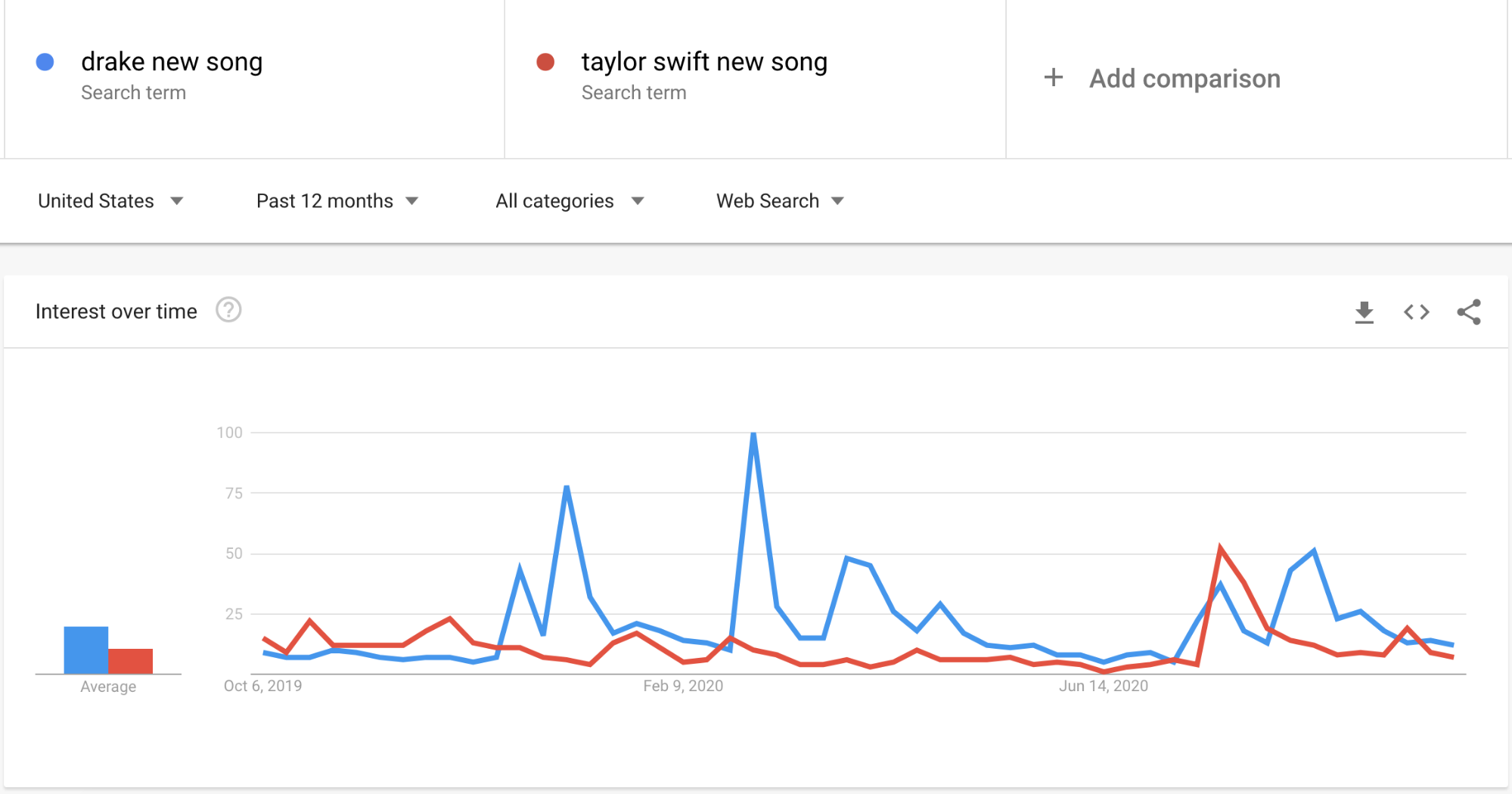 Sometimes it's just hard to get into the head of the average search engine user, even though that's an integral part of coming up with the best keywords possible. Not to worry, though; Answer the Public has your back with that. When you provide the site with a short term, it tells you what people are asking about that term. This helps narrow down specific keywords and gather supporting keywords that could boost your content's SEO viability.
Questions rank high in search engine result pages, so if you answer what people are wondering, you have a better chance of getting seen. Answer the Public allows you to search five terms per day for free, but you can't see search volume data for the terms that it provides. With a paid plan, you have unlimited searches and can receive updates on terms you're following.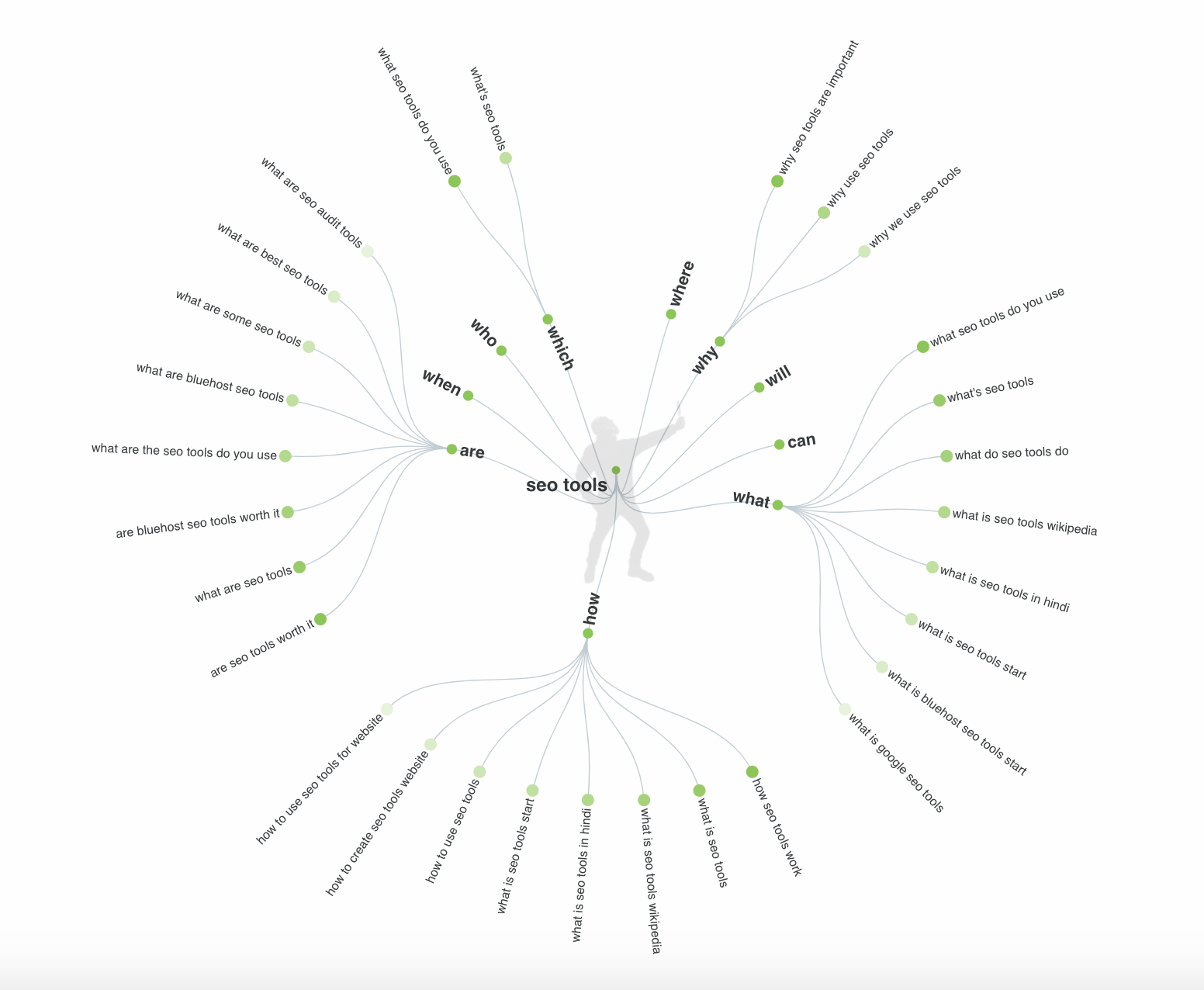 Some great paid alternatives for researching keywords are Ahrefs, which provides keyword suggestions and extensive insights on keyword candidates, and Google Keyword Planner, which is a Google Ads tool that allows you to find keywords to add to your advertising plan.
---
This writing assistant app isn't just for making sure your emails are grammatically correct. Grammarly makes sure your content is readable, clear, and engaging with its in-document assessments, a must-have for any journalist before you even start to worry about keyword placement. Grammarly is completely free for most of your proofreading needs, but with premium access, you can get more in-depth writing tips and analysis on tone and clarity.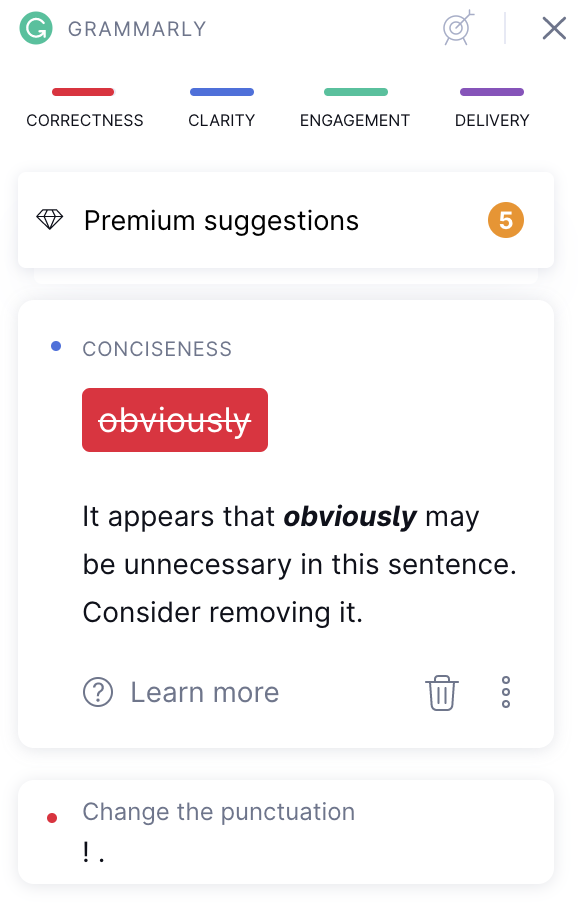 This is another editorial app that makes sure you have clear, concise content. Hemingway app, like Grammarly, shows you how you can optimize your writing for grammar and clarity. Again, this is a vital step for any news writer with their eye on SEO; you have to make sure your content reads well before it ranks on search engines.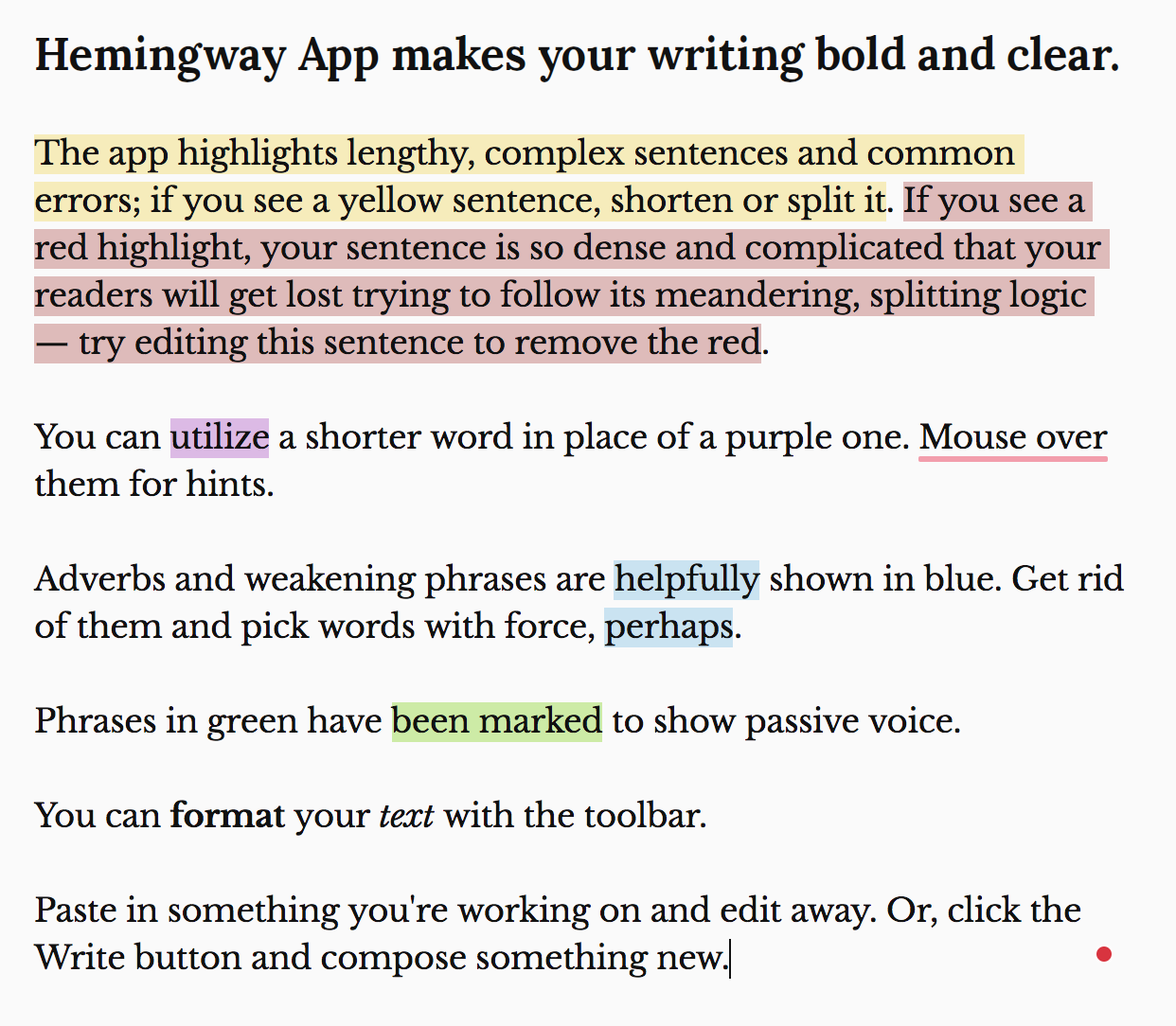 Once you make sure your writing is good, it's just as important to make sure it gets seen. This is where a plugin like Semrush's SEO Writing Assistant comes in: you can add this plugin to your Google Docs or WordPress account, and it automatically analyzes your writing for SEO-friendliness.
Once you have researched your keywords and have your basic content figured out, this Semrush plugin is a great way to optimize it for search engines. While the Semrush suite itself costs upward of $90 per month, you can use the writing assistant plugin for free just once in Google Docs or WordPress.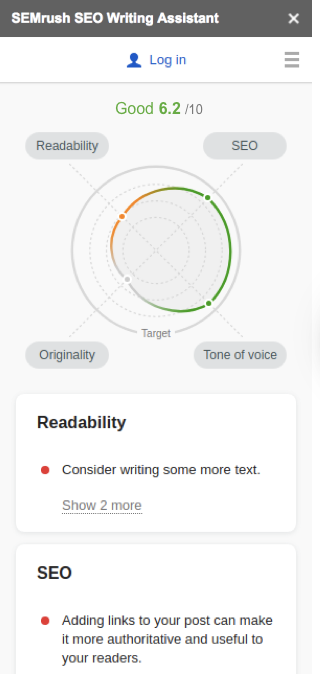 Like the Semrush SEO plugin, Yoast is a free way to instantly analyze your writing for SEO. While Yoast offers other services such as keyword research and site indexing, the most valuable aspect of Yoast's free plan is its keyword and readability optimization, allowing you to get feedback as you write. The paid plan offers more function and is less limited, but overall, Yoast's free plugin is enough for many writers looking to optimize their content
Other paid services that help you write for SEO are Clearscope, which helps you integrate SEO in your writing process, and Seosurfer, which gives an SEO recipe based on the content you're writing.
---
Once your content is up for all the world to see, it's important to monitor it. See how your content is doing and make sure your webpages are up to snuff with Content King's SEO auditing and monitoring services.
This is more behind-the-scenes than other services, but the technical aspect of SEO is still important. Content King isn't totally free, though. Once you try out the free trial, you'll have to buy into their paid service, the price of which is scaled to the amount of pages on your site.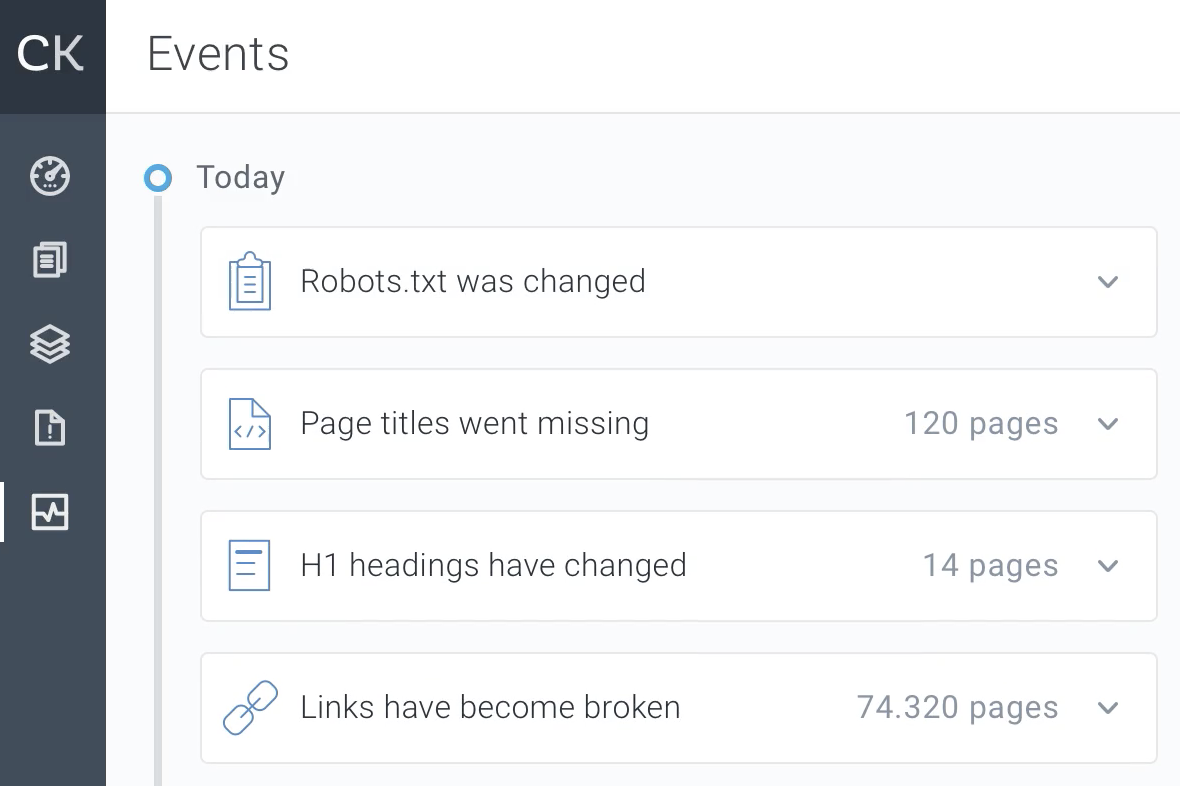 Another behind-the-scenes service, SE Ranking also audits your site and monitors how your keywords are ranking. This comes along with a keyword suggestion tool and a way to plan out your marketing. Again, once your content is out there, that is only the beginning of its SEO journey; pre-planning and after-the-fact analysis meet in SE Ranking. Like Content King, however, after your free trial, you'll have to buy into their paid service.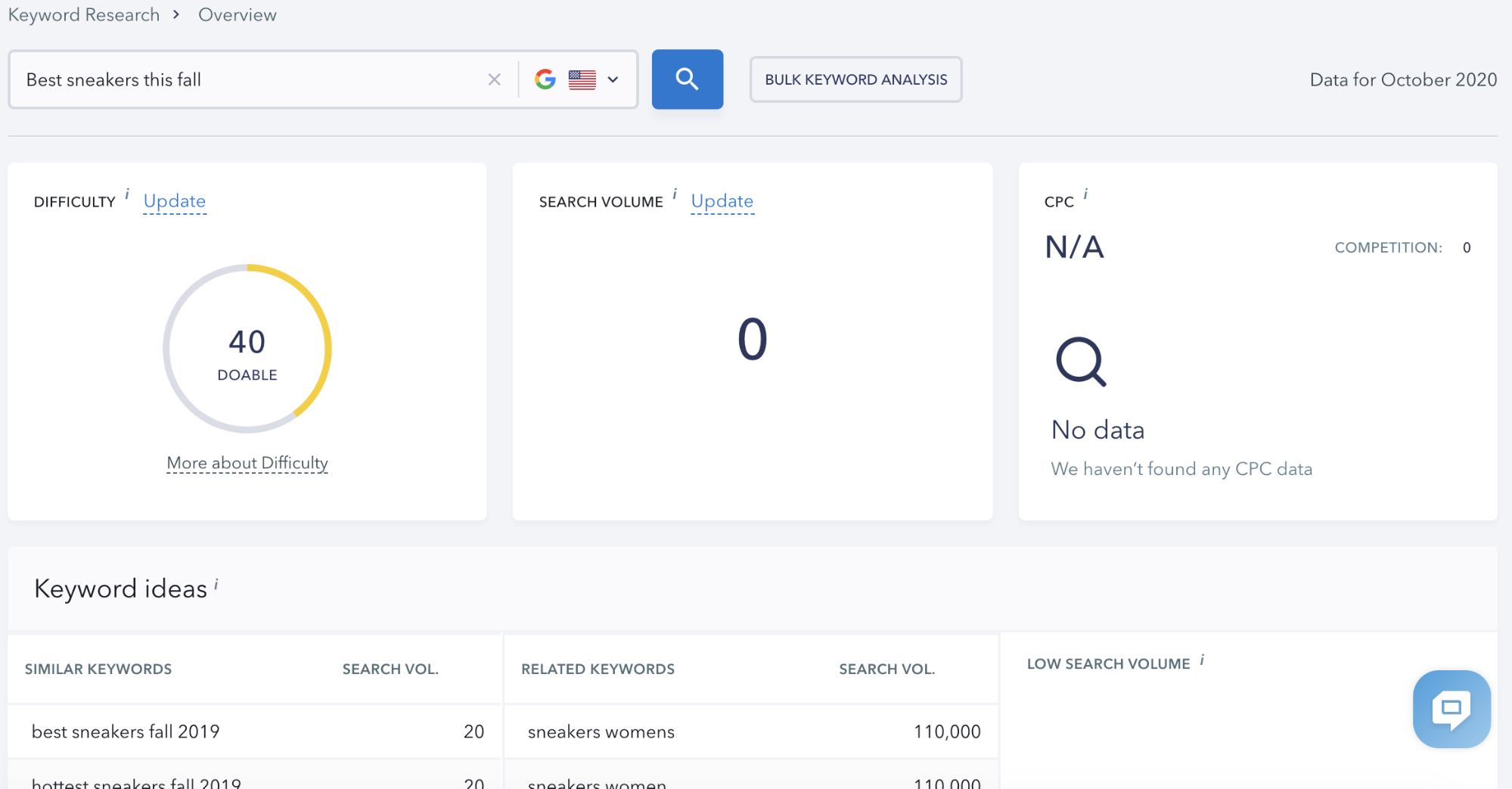 Outside of getting your content to rank on search engines, it's also imperative that your site isn't missing anything–or has too much of something. Siteliner crawls your site to see how much duplicate content you have, as well as broken links, missing titles, and other inconsistencies. The basic package is free, but if you have a particularly large site or want more organized, archived results, then Sitleliner also has a paid service.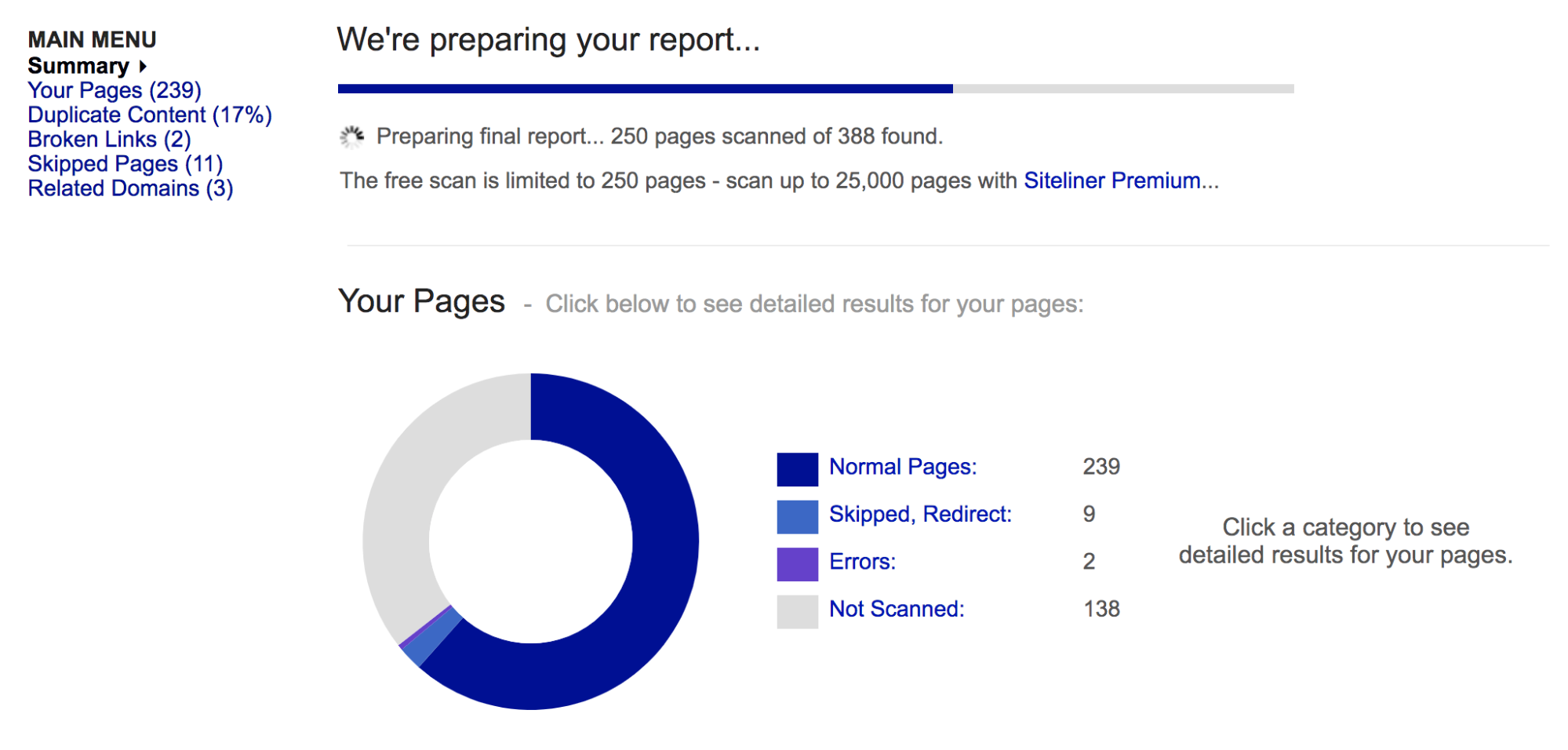 Semrush and Ahrefs both also provide paid site optimization in addition to their keyword and writing analysis.
---
When writing for SEO, it's necessary to see just how people interact with your content. Chartbeat analyzes user engagement to give you insights on how to capture readers' attention. The service isn't free, but a company can request a demo version to test the service out before purchase.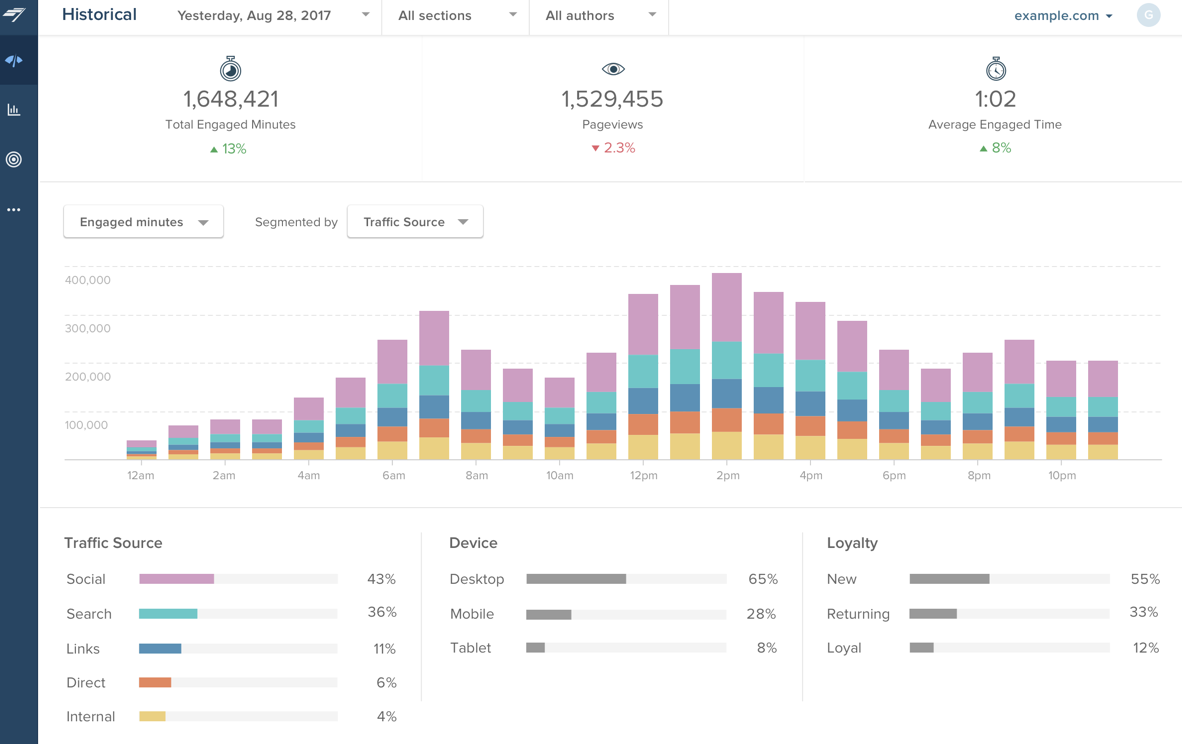 So your new site is producing plenty of content, and it's doing okay, but you want to take your engagement to the next level. Parse.ly can show you which content and what channels work best for you so you can optimize what you put out.
Parse.ly has a free 30-day Starter Tier trial so you can get a taste of what kind of analytics the platform provides.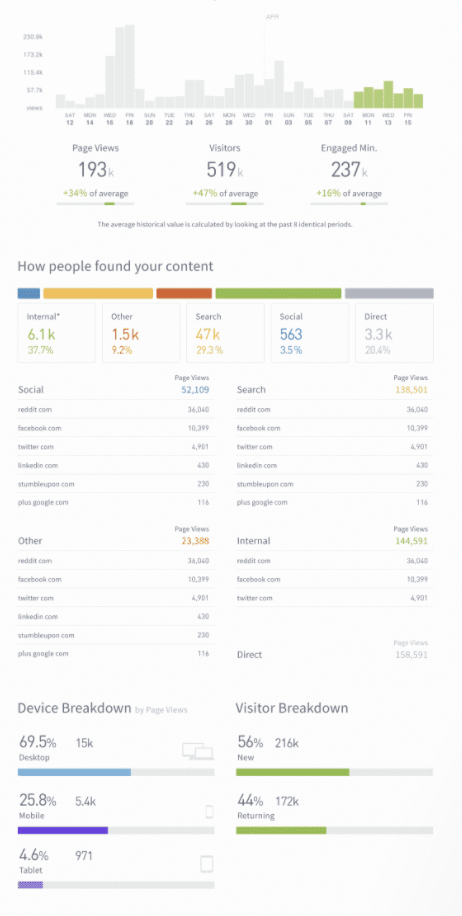 It's always important to remember that, while tools can help you, nothing can replace good content. That's why these tools are meant to take your news content to the next level; anyone can write, but getting eyes on your content is just as important. According to a study by Ahrefs, 90.63% of content online doesn't get traffic from Google, so do everything you can to get seen.
If you are a journalist or an editor and wondering if SEO is for you, or just curious about why you need SEO for your content? Make sure you read SEO Tips for Journalists and Editors that are Essential to Your Career Growth.