As many news publishers struggle to drive revenue and monetize different streams, it is obvious Videos is a one of the most important streams every publisher should pay attention to. Not just because of high CPMs - way higher than display ads - but for the strong Videos Content Visibility across many of Google surfaces. In this analysis we will try to shed the light on Videos Content Visibility in Google News and Google SERPs and the different opportunities publisher may take advantage of.
The study is based on US Google News and Google Mobile SERPs for millions of URLs in the year 2020. we mainly focused on the top landing pages (Homepage, Sports, Business, Entertainment, National News, World, Technology, Science and Health). In Google Mobile SERPs we tracked hundreds of thousands of Trend/News keywords in Google analyzing the first page. We based the study on two main metrics; Content Visibility and URL Share. Content Visibility is based on multiple factors (Rank, Rank Duration, Appearances, Main vs. Sub-Stories, etc) while URL Share is a simple representation of number of Video URLs as % of total Organic URLs we captured.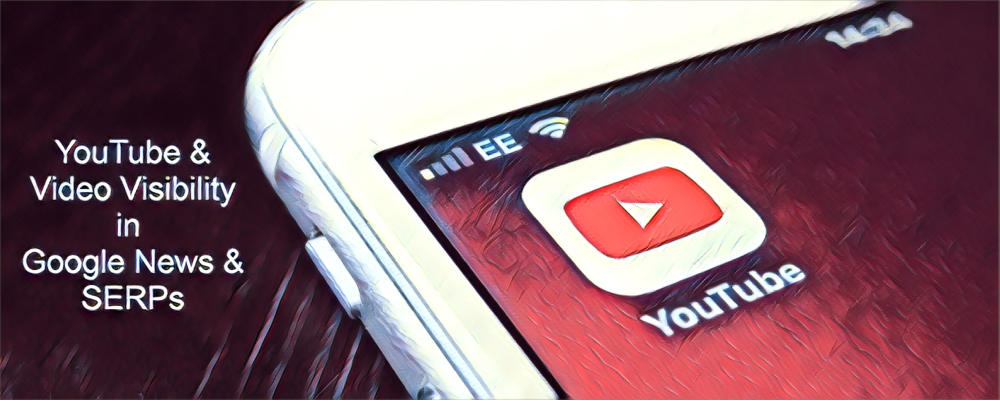 In this analysis you will find:
Google News hosts content from thousands of publishers in US and worldwide. Many publishers strive to be included and optimize for their News Sites for Google News. Being in Google News is an indication of authority but don't confuse Google News importance with SERPs Top Stories. Google Top Stories is definitely the main driver of traffic for all news publishers. That being said an optimized news site can drive almost 3% of their total traffic from Google News. While there are thousands of publishers in Google News, it has been consistent for awhile now that the top publisher in Google News is YouTube where over 10.6% of all Google News content is from YouTube.com.
11% of all content featured in Google News comes from YouTube.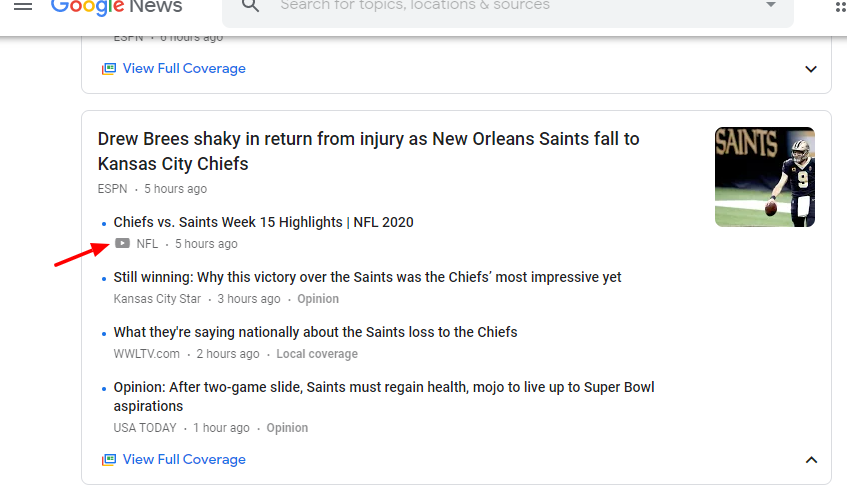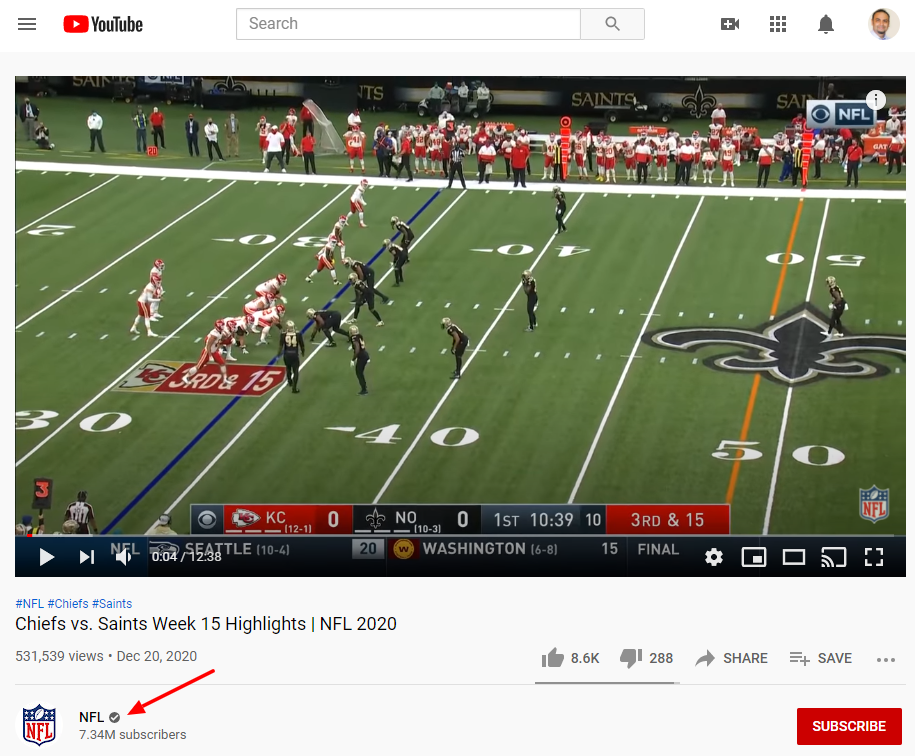 YouTube Appearance in Google News
We have classified Google News stories into 2 distinct types based on their appearance; Main Stories and Sub-Stories. Main Stories are visible and get most of the traffic while Sub-Stories are mostly hidden and get little traffic. Google News consists of News Cards, each News Card has 1 Main Story and up to 4 Sub-Stories. 78% of all YouTube Links appear as Main Stories in Google News. On average a YouTube Main Story remains in Google News for 137 minutes compared to 186 minutes for non-YouTube Main Story. While a YouTube Sub-Story remains in Google News for 413 minutes compared to 507 minutes for non-YouTube Sub-Story.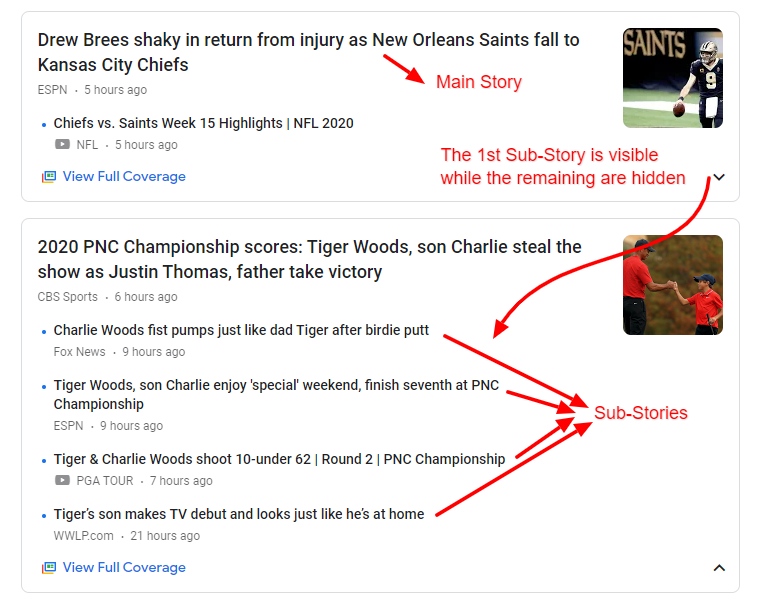 YouTube Content Visibility in Google News
YouTube is the Top Publisher in Google News where 11% of total Google News content is from YouTube. YouTube Content Visibility is 8.07% of all Google News Content.
It is no surprise that YouTube is the top publisher in Google News (news.google.com) not just in number of appearances but in visibility as well. 10.62% of total featured content in Google News comes from YouTube.com and is almost 8.07% of total Google News Content Visibility. We measure Content Visibility based on multiple factors; rankings, main or sub story, duration in Google News, visible vs. hidden and many other factors. Think of content visibility as a lever of CTR. Compared to CNN which is the second most visible publisher in US, CNN content constitute 2.71% of total Google News in US and has 4.71% Content Visibility. In other words YouTube content appeared 5x more times than the next publisher on the list and has almost double the visibility.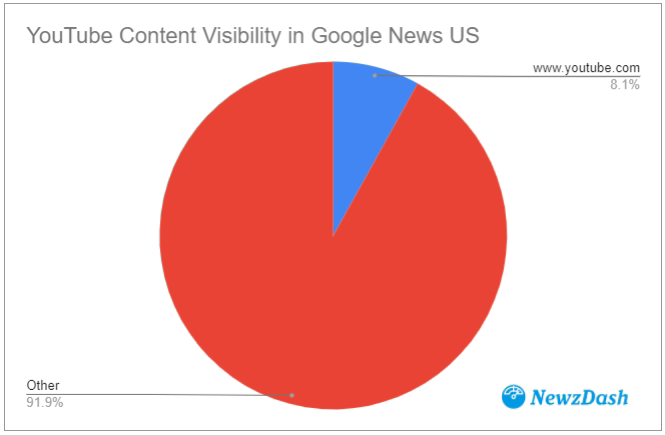 Top YouTube Channels/Publishers across all Google News Verticals in US
YouTube Video content in Google News includes thousands of publisher channels competing for top placement in Google News via their YouTube channels. Analyzing the visibility of all the YouTube publishers in Google News in US we find that ESPN is the top YouTube Channel in Google News with 7.3% Content Visibility across all YouTube channels followed by IGN (6.8%), NBC Sports (3.4%), CBS News (3.2%), CNBC Television (2.5%), NBC News (2.5%), etc.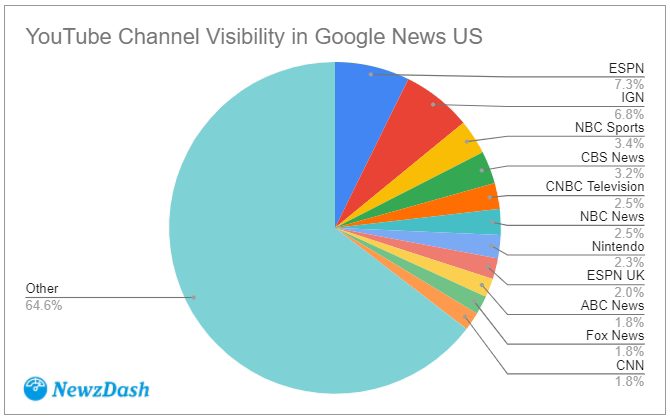 YouTube Channel Content Visibility out of all YouTube Channels.
YouTube Content Visibility Across Google News Sections
Sports News Section has the lion share of YouTube Visibility where 32% of all YouTube Content Visibility is taking place in Sports.
NewzDash tracks all Google News Section landing pages like (Google News Top Stories (Homepage), Sports, Business, Entertainment, Technology, Science, etc). One may guess that the highest YouTube Content Visibility in Google News would be the Homepage, unfortunately not. We actually found that it is Google News Sports section that has the highest YouTube Content Visibility, that's why ESPN was the top YouTube Channel in Google News for 2020. 31.89% of total YouTube Content Visibility across all Google News news sections takes place in the Sports section. On the other hand, Science, World and Health have the lowest YouTube Content Visibility.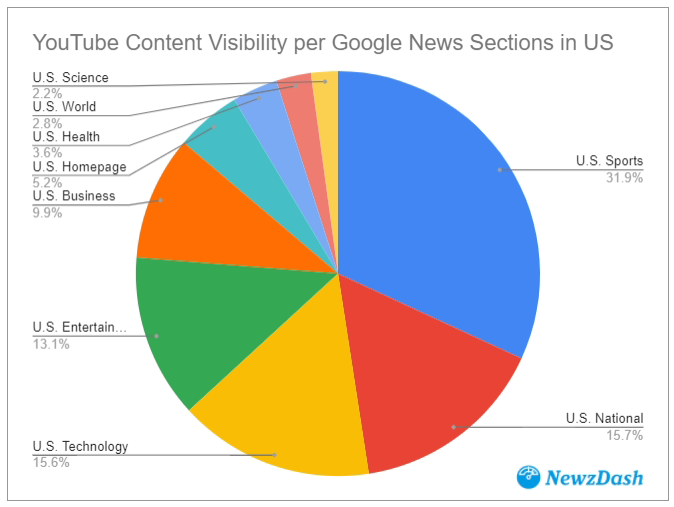 YouTube Top Channels/Publisher per News Section
Analyzing the visibility share for each channel within its section YouTube Content Visibility we find that ESPN has the highest visibility share within Sports YouTube Content, CBS News within Homepage YouTube Content, Entertainment Tonight within Entertainment YouTube Content, CBS News within National YouTube Content, IGN within Technology YouTube Content, CNBC Television within Business YouTube Content, BBC News within World YouTube Content, NASA within Science YouTube Content, and CBS News within Health YouTube Content. remember ESPN Content Visibility within YouTube content is almost double CBS News Content Visibility, but CBS News is more diverse landing top spot in multiple verticals.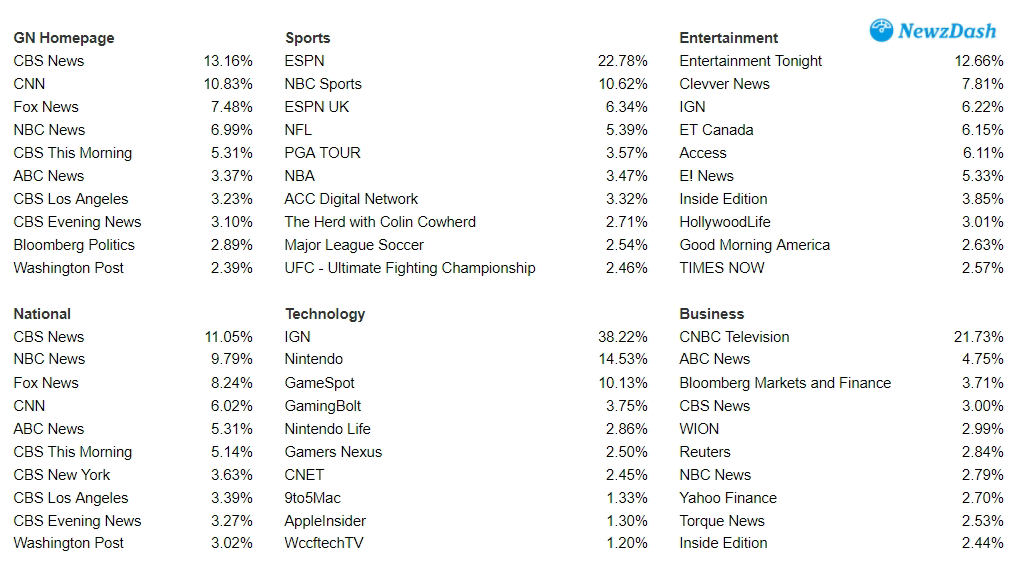 How to associate YouTube Channel with your Google News Channel?
The next logical step after reading all the stats above is to invest in videos especially if you are one of the top news publishers in US but have no or weak presence in Google News YouTube videos. So how to How to Connect Your YouTube Channel With Google News? it is simple:
Log in the Publisher Center https://news.google.com/publisher

Navigate to the "Content" tab.

Click New section.

In the pop-up window, add the YouTube URL, name, and other details.

Join the YouTube Partner Program. YouTube partners enjoy many benefits that may be worthwhile for your site. https://support.google.com/youtube/answer/72851
---
Other SEO tools have a list of historic keywords they track frequently in SERPs. Our index is continuously changing based on the top Trends in US every 15-30 mins. That's why we can claim that our analysis is focused mainly for News Sites since most of our trends we track are newsy and trendy new keywords. We track all our trends in Google Mobile SERPs from different random locations within US.
Video Appearance in Google US Mobile SERPs
Video Carousels comes in different shapes and sizes; from 2 up to 12+ videos in a block. They come in horizontal carousels or a list of links. The most popular 3 formats are
List of 3 Links - 66.02% of the time
List of 4 Links - 19.79% of the time
Carousel of 10 Links - 7.10% of the time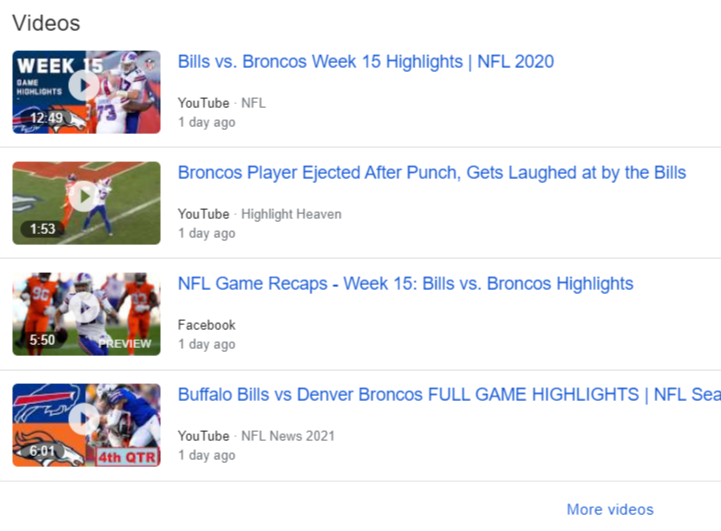 Based on millions of Trend-Keyword Rankings, we estimate 14.46% of total organic results (excluding Top Stories) are video content with 11.95% Content Visibility. Our Content Visibility is based on multiple factors (average rank, average rank within carousel, ranking duration, etc.) In the near future Search Volume will be a part of our Content Visibility calculations
13.97% of total organic results of Trend-Keywords (excluding Top Stories) are video content.
YouTube URLs Share within Video Carousel
When it comes to News and Trendy Keywords, YouTube Videos represent 84.59% of all video links in SERPs. CNN.com has the highest share of videos in Video Carousels after YouTube (2.10%) followed by Facebook (1.07%) then Twitter (1.39% including mobile.twitter.com and twitter.com). CBS News and CNBC the next publishers present in the top 10 list. I would argue that the presence of videos on twitter and Facebook could be an important strategy for publishers.
85% of all Video Links for News and Trend Keywords are YouTube Videos. Videos from Social Platforms - Facebook and Twitter - are almost 2.5% of total video links.
Domain
Video Results Share

m.youtube.com
www.youtube.com
www.cnn.com
m.facebook.com
mobile.twitter.com
www.cbsnews.com
www.cnbc.com
twitter.com
www.today.com
www.pgatour.com

80.74%
3.85%
2.10%
1.07%
1.04%
0.40%
0.36%
0.35%
0.34%
0.27%
Top Publisher Sites for Native non-YouTube Videos in Video Carousel
CNN is top publisher for native non-YouTube videos in video carousels followed by CBS News.
Publisher Native Videos
Video Results Share

www.cnn.com
www.cbsnews.com
www.cnbc.com
www.today.com
www.si.com
www.msnbc.com
www.nba.com
www.c-span.org
www.theguardian.com
www.cbs.com
www.nbcsports.com
www.nbcnews.com
www.freep.com
www.golfchannel.com
colpachealth.org
www.kctv5.com
finance.yahoo.com
www.espn.com
www.eonline.com
www.usatoday.com
economictimes.indiatimes.com
www.msn.com
www.nhl.com

2.10%
0.40%
0.36%
0.34%
0.26%
0.26%
0.23%
0.20%
0.20%
0.18%
0.17%
0.17%
0.15%
0.14%
0.12%
0.09%
0.09%
0.09%
0.08%
0.08%
0.08%
0.08%
0.08%
Top YouTube Channels, Facebook Pages and Twitter Accounts in Video Carousel
You will immediately noticed from the table below that videos from YouTube, Facebook and Twitter are dominated by sports (ESPN tops YouTube videos, Seton Hall Pirates tops Facebook videos and Chelsea FC tops Twitter videos.
YouTube Accounts
YouTube
Video Share
Facebook Pages
Facebook
Video Share
Twitter Accounts
Twitter
Video Share

N/A*
ESPN
NFL
ESPN College Football
Access
PGA TOUR
CNBC Television
ACC Digital Network
NBA
Entertainment Tonight
E! News

2.56%
1.84%
1.57%
0.83%
0.78%
0.65%
0.64%
0.56%
0.56%
0.56%
0.54%

shuathletics
FSUFootball
RealMadrid
CAgovernor
UWMensBasketball
thedodosite
richmondmensbball
NationalDogDay
PGATour
TheMasters

6.01%
4.84%
3.31%
2.69%
2.69%
2.46%
2.27%
2.12%
1.87%
1.81%

chelseafc
en_sscnapoli
realmadriden
realmadriden
whitesox
juventusfcen
realmadridfra
en_sscnapoli
thegameawards
juventusfcen

3.21%
2.20%
1.99%
1.96%
1.90%
1.44%
1.29%
1.29%
1.13%
1.11%
Video URLs Share Per Trend Category
At NewzDash we have classified Trends into 6 Main Categories following Google Trends classification. As you see the highest penetration of videos are in Tech & Science; 19.82% of all organic results (excluding Top Stories) in US Technology & Science Trend category are video results. While the lowest Video share is in Health Trends category.
Trend Category
Video Results Share

US Daily & Top Trends
US Sports
US Tech & Sci
US Business
US Entertainment
US Health

13.50%
13.05%
19.82%
15.20%
15.41%
8.12%
Top Video Publishers per Trend Category
The table below highlight the top Video Publishers for each Trend Category based on Video Results Share in such category.
US Daily & Top
Trends
US Sports
Trends
US Tech & Sci
Trends

www.cnn.com
YT ESPN
YT NFL
youtube.com*
m.facebook.com**
mobile.twitter.com***
YT ESPN College Football
YT Access
YT E! News
YT ACC Digital Network

2.70%
2.21%
1.99%
1.52%
1.22%
1.15%
1.07%
1.00%
0.72%
0.71%

YT ESPN
youtube.com*
YT NFL
mobile.twitter.com***
YT PGA TOUR
m.facebook.com**
YT US Open Tennis Championships
YT ESPN FC
YT ESPN College Football
YT NBC Sports

2.81%
2.14%
1.95%
1.51%
1.52%
1.40%
1.23%

1.18%
1.09%
1.02%

www.youtube.com*
YT Nintendo
YT PlayStation
YT NASA
YT IGN
YT Xbox
YT Call of Duty
YT NASA Goddard
YT Fortnite
YT National Geographic

3.50%
2.54%
2.50%
2.14%
1.66%
1.43%
1.22%
1.20%
1.09%
1.03%

US Business
Trends
US Entertainment
Trends

US Health Trends

www.youtube.com*
YT CNBC Television
www.cnbc.com
www.cnn.com
www.khanacademy.org
YT Investopedia
YT Apple
YT One Minute Economics
YT Corporate Finance Institute
YT Zions TV

7.15%
2.49%
2.42%
2.22%
0.84%
0.68%
0.63%
0.62%

0.64%

0.57%

www.youtube.com*
YT Access
YT Entertainment Tonight
YT E! News
YT ET Canada
www.cnn.com
YT Clevver News
YT TODAY
YT BillieEilishVEVO
YT Nicki Swift




6.98%
2.81%
2.24%
1.65%
1.41%
1.36%
1.02%
0.89%
0.89%
0.86%




www.cnn.com
m.facebook.com**
www.pinterest.com
www.youtube.com*
YT Hyram
YT Centers for Disease Control and Prevention (CDC)
pittsburgh.cbslocal.com
YT TED
YT Seeker
YT ABC News

3.23%
2.71%
2.40%
2.06%
1.82%
1.24%

1.24%
0.86%
0.82%
0.79%
* Due to internal issue some YouTube Channels weren't identified
** All Facebook Pages
*** All Twitter Accounts
Methodology
I hope this analysis helps shed some light on YouTube and Native Videos in Google News and Google SERPs. The data used in this analysis is a set of 2MM URLs in Google News and 200K Mobile searched in Google SERPs resulting in 3.2MM URLs (excluding Top Stories) in Google SERPs.
Our Keyword Searches all consist of Trends and News keywords driven from multiple sources like Google Trends and classified into Trend Categories. These Mobile Searches are no constant list of keywords, they change all the time based on the news and trends at that hour.
We don't use any random sampling in our data to make sure we produce accurate data as possible.
This doesn't represent the actual universe as there are trillion of searches happening every year according to Google. They are a small set that represents just the top trends in US.
This post was inspired by Dr. Pete's post on Moz
Author: John Shehata - December 21, 2020