Boost

your Visibility in Google Top Stories & Google News


NewzDash.com is a powerful news dashboard for publishers providing SEOs & edit teams
Our News-SEO Tool provides actionable insights, tracks your market share, monitors trends as they happen, provides instant SEO recommendations and spies on your competitors!!
Testimonials
Love this from @newzdash : Top 100 publishers in Top Stories carousels on Google, available for US, UK, and dozens of other countries:
Pulling data from @JShehata's amazing tool, @newzdash, to analyze how E-A-T might a role in performance in Google News performance for the upcoming #NESS conference.
NewzDash technology is actually "News Search Console for every News Publisher"
To me, the most compelling feature is being able to quickly identify gaps in coverage compared to competitors. Newsrooms that have that insight and can act on it quickly will develop a huge advantage. There's so much data in there it sort of made my head spin! (in a good way).
NewzDash is a really useful tool for News Publishers offering insight into publisher visibility in Google News, Search, and Top Stories. Not having to manually track my keywords for big events or simply ongoing keywords we want to track saves time us time, enabling our team to commit to working on more important projects. The data we collect with NewzDash has helped inspire our teams from a content perspective and offer a great look back at how we and competitors have performed for events, newsworthy moments, and more.
Core Features
---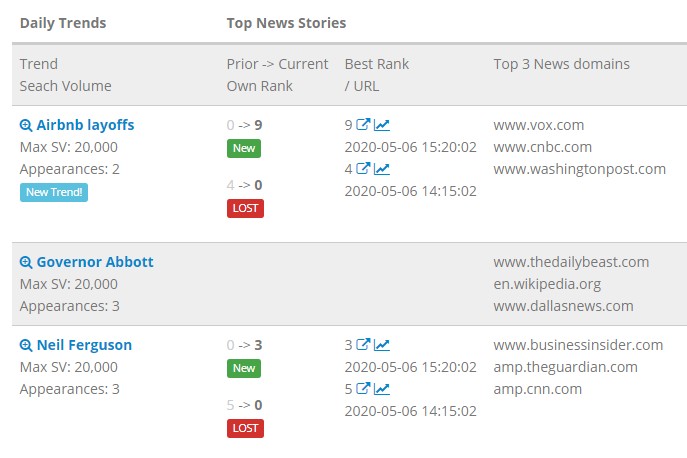 Dynamic Tracking of Top Trends
Track Trends Keywords in SERPs and monitor your site's rankings in Top Stories and Organic Results.
Monitor your Rankings of Top Trends Automatically
Identify Missing and Lost Trend Rankings
Track Trends coverage by your site, competitors, and Top Sites
Track Top Stories, Organic Results, Publisher Carousel, Videos, and more
Track in any Language, City and Country
---
Near Real-Time News Keyword Tracking
Real-Time SEO Tracking: Track any keyword rankings in SERPs every 15 minutes (Track at your desired pace and Check rankings every 30 or 60 minutes).
Get Top Stories (News Carousel formerly know as In The News box) Rankings
Easily combine multiple Keywords reports together to the see the full picture
Track Competitors' Headlines Changes
Track Video, Publisher and Live Carousel rankings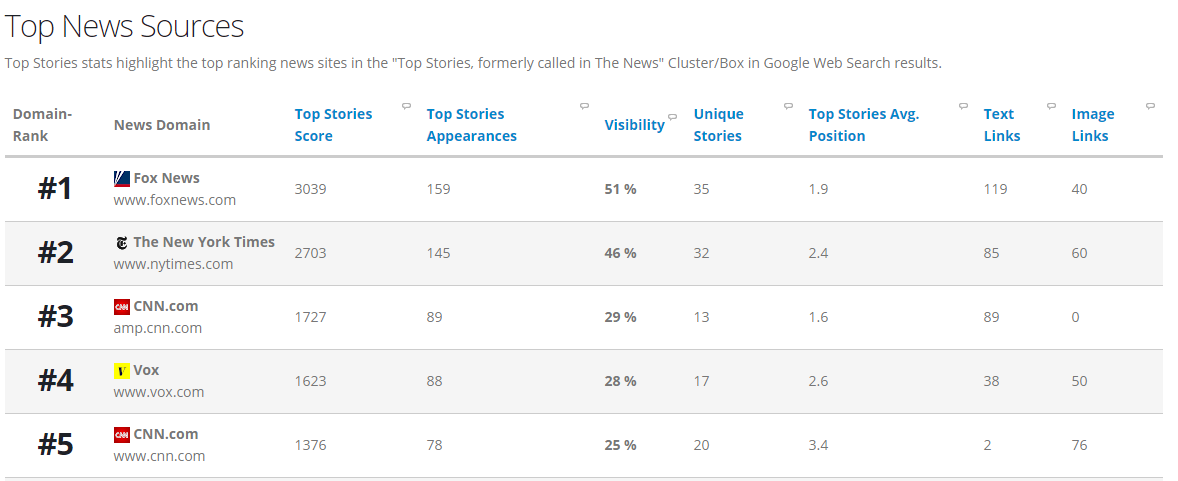 ---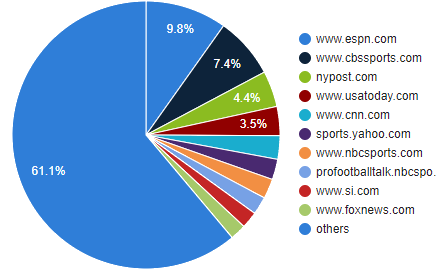 Track Everything Google News
Track any News Site for any country/language in Google News.
Track 50+ Google News SEO metrics
Track Google News Homepage and Section Pages
Track YouTube Videos in Google News
Get all your site stats and section visibility
Track any local news (city, state)
Track Share of Voice in any content vertical
Track Google News Headlines Changes and Updates
---
Near Real-Time News Trends
Track Top & Latest News Trends in any Country.
Easily Track Top News Trends in your Country
Track Top Trends in Google News & Google Trends
Identify Trend Related Keywords to Optimize for
Identify Trend Movement and is it Still Worth Covering

Read The Latest Top Stories & Google News SEO Ultimate Guide
How to Optimize your News - 2020 Edition
---
Thousands of publishers tracked

hourly

daily

in Google News and Google Web to bring you the best insights ...
25,000 publishers tracked in 15 countries. Here are some of the publishers we track