Hello SEO Friend,
Welcome to a new edition of Everything News SEO newsletter!!!
Real-Time News deserves Real-Time SEO, that why we have been very busy adding new features that solves many of the News SEO challenges to improve efficiency, save time and above all drive high visibility in Google
NewzDash.com New Features
Real-Time Trends: Improved and expanded trends capabilities
Discover Trend Gaps: You vs. Competitors. added city keyword tracking for any city, metro or providence you desire.  
Sort Trends by Top Search Volume and Discover related Entities. 
Easily see Trend Movement and top relevant search queries. 
Analyze your Top Stories, Top Results, Publisher Carousel, Video Carousel, Google News Visibility against your Competitors.
Identify the top SERP Features with the highest Visibility your Niche and which features are gaining more traction in SERPs.
Research News Keywords and identify the top alternatives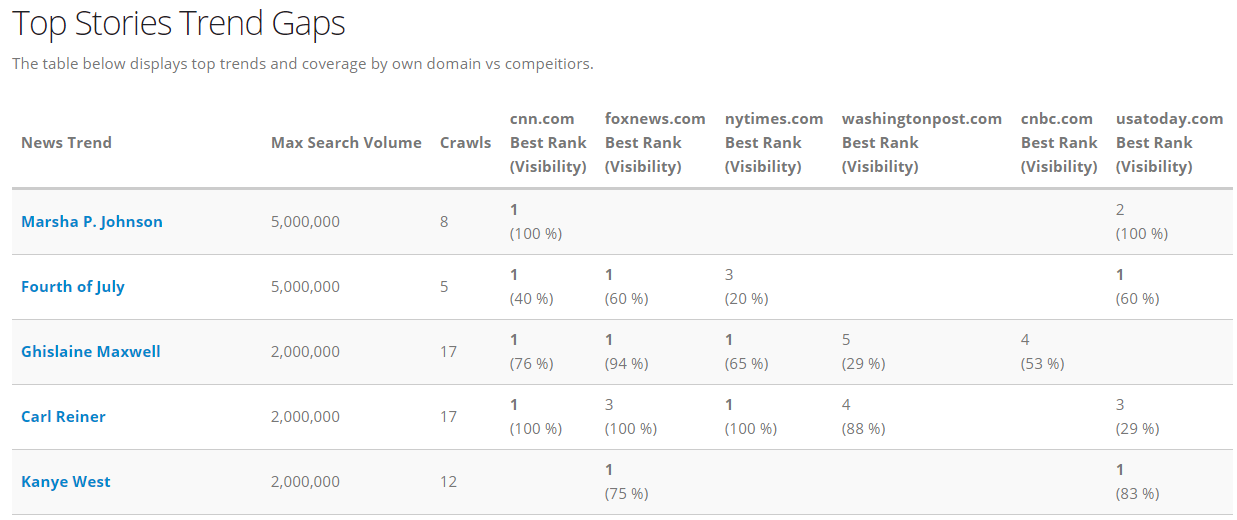 Don't Delete AMP Just Yet!!
You have read the news; Google is removing AMP requirement for Top Stories eligibility starting next year. There is a heated discussion online where some SEOs can't wait to remove AMP while others are skeptical. 
We have started tracking the % share of non-AMP stories in Top Stories in preparation of the move.So far our data indicate about 20% of all Top Stories are non-AMP URLs. So far AMP URL constitute about 96-98% of all Top Stories URLs. It has been consistent for the past few weeks.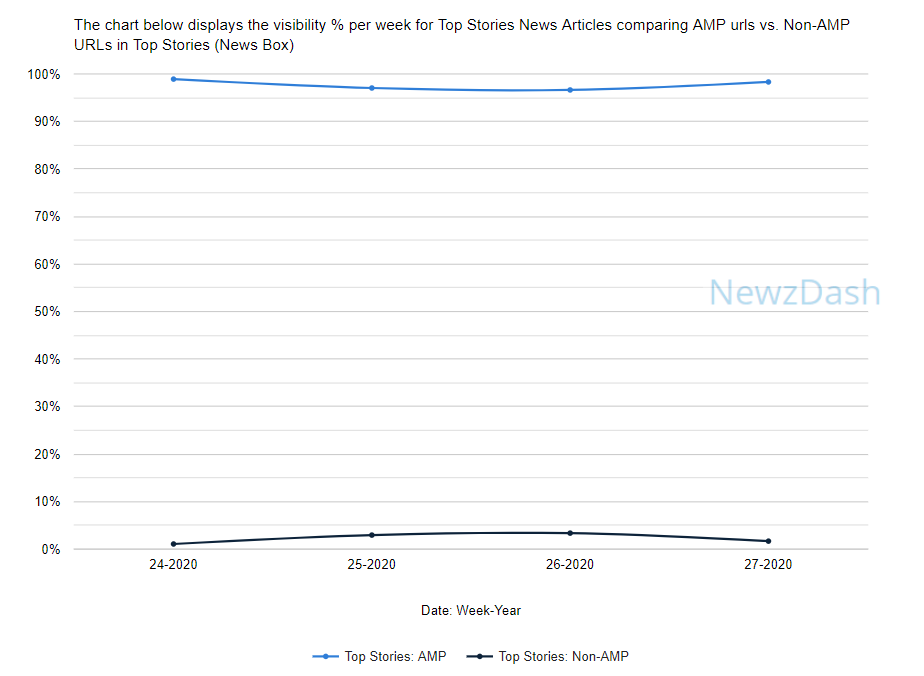 To our surprise the non-AMP URLs were still the top publishers; cnn.com, foxnews.com, people.com, theguardian.com, etc. The non-AMP stories that ranked in Top Stories had AMP alternatives but Google chose to display the non-AMP version.
Take the search for "Bubba Wallace" done on 6/22, Google displays non-AMP CNN and NBC News on Mobile SERPs Top Stories. Both stories have valid AMP pages.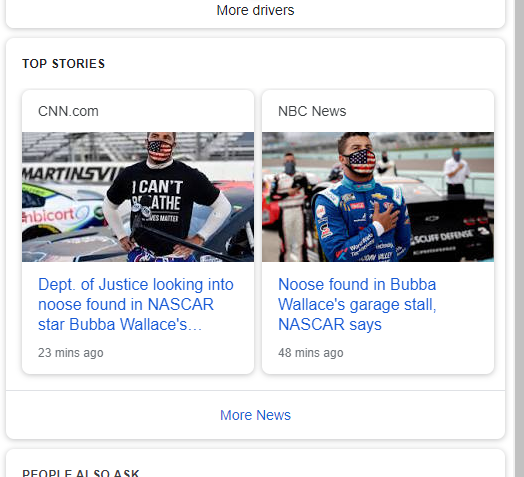 Here is what you should do:
If you are going to Keep AMP: 
Optimize your AMP pages; AMP pages can still be slow!! We believe AMP pages will be evaluated against non-AMP pages some-what-equally when it comes to Core Web Vitals
If you are getting rid of AMP: 
Optimize Your Mobile Pages to be on bar or better than AMP
Test removing AMP X-Days after story is published and examine traffic. This way you get the Top Stories traffic and analyze the organic traffic of removing AMP
Test removing AMP from one section and examine traffic
If all good, proceed :)
Trend Highlights: Kanye West

Kanye West Sets Off July 4th Fireworks With White House 2020 Bid; "Power" Rapper Plans To Take On Trump & Biden. People.com dominated the SERPs with 92% viability in Top Stories with 4 unique articles followed by USAToday.com and foxnews.com.
Google News June Market Share - US
CNN.com 8.6%
FoxNews.com 6.4%
NYTimes.com 5.2%
WashingtonPost.com 3.9%
CNBC.com 3.4%
ESPN.com 9.6%
CBSsports.com 6%
sports.yahoo.com 3.8%
NBCsports.com 3.3%
NYPost.com 3.1%
theverge.com 5.8%
gamespot.com 5.3%
engadget.com 5%
cnet.com 4.3%
forbes.com 4.2%
CNN.com 17.2%
FoxNews.com 9.2%
Thehill.com  5.9%
WashingtonPost.com 5.6%
USAToday.com 5.4%
Must Read
Paywalls, SEO, and the Need for a Damn Good Brand
Search engines are vital for discoverability. But, historically, they've undermined monetization—requiring crawler access that savvy users exploit and demanding free clicks for searchers
Screaming Frog SEO Spider Update – Version 13.0
Who doesn't use Screaming Frog?! The new version has a ton of much needed SEO features like near duplicate content and improved internal links site visualization
SEO Mythbusting with Google & Bing
In the first episode of SEO mythbusting season 2, Martin Splitt from Google and Sandhya Guntreddy from Microsoft discuss the most common SEO questions they get and the trends they see in the SEO community. Also Check Bing's updated their webmaster guidelines
Google Latest Algorithm Update, Did they just promote Government Sites?
On June 23rd SEORoundTable.com reported a big Google algorithm update. It seemed pretty big based on the chatter and the tracking tools. But it was not as big as a core update. After about a week, we are now seeing reports from folks in the SEO community that this update may have had a stronger influence on governmental web sites.
How Google May Calculate a Site Quality Score (from Navneet Panda)
This recently granted patent did provide a way to measure the quality of a web site, and that measure could influence how well or poorly a site might rank in search results for a particular query.
Worth Reading: 
Enjoy Aleyda's Crawling Mondays with Barry Adams and our Founder John Shehata discussing AMP and other News SEO Hot Topics!!! Coming Soon