Single News Domain vs. News Sources vs. Related News Domains
The Single Publisher Report tracks multiple aspects of a single Publisher News Domain in Google News for the specified Google News Edition (Country & labguage), specified Section and specified Time Period.
Each Publisher News Domain may contain multiple News Sources (Labels) which stats are included in this report.
Here are some examples for Publisher News Domain that contain multiple Sources:
www.cnn.com has CNN and CNN Internation
patch.com has many News Sources: Hollywood, CA Patch, Foxborough, MA Patch, Pasadena, CA Patch, etc.
www.yahoo.com has Yahoo Entertainment, Yahoo Lifestyle, Yahoo Movies, Yahoo News, Yahoo News UK, Yahoo Sports, Yahoo India News, Yahoo Style and yahoo.com
Each Publisher News Domain may have other Related News Domains. For example
The Related News Domains stats are NOT included in the Single Publisher report. The report only reports stats from a single domain including its sources.
You can dig deeper by filtering by a specific Google News Edition (country and language) and news Section. GN-Rank, both globally and per edition, is based on our internal score formula ranking news sources for each news edition homepage (Top Stories) and news Section pages.
Single News Domain vs. News Sources (Labels)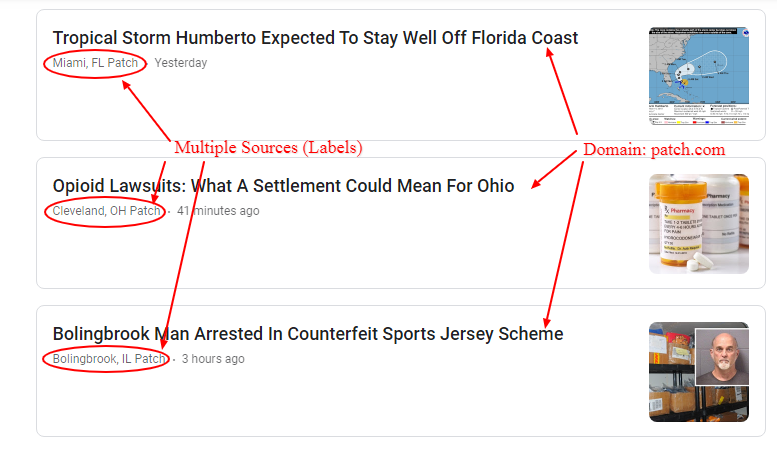 Single News Domain vs. Related News Domains